Religious Education
We are extremely proud to be a Church of England Primary school, with a strong distinctiveness within this area. Our mission and vision is firmly embedded and rooted in school life and permeates everything that we do. Religious Education at our school is underpinned by our vision and values where we have 'faith in everyone to shine brightly'.This was supported by verses from Daniel 12:3, "Those who have insight will shine brightly like the brightness of the expanse of heaven, and those who lead the many to righteousness, like the stars forever and ever" and Genesis 26:4, "Your descendants will become as numerous as the stars of the sky, and all the nations of the earth will be blessed." We brought these elements together in our 'shining brightly' ethos: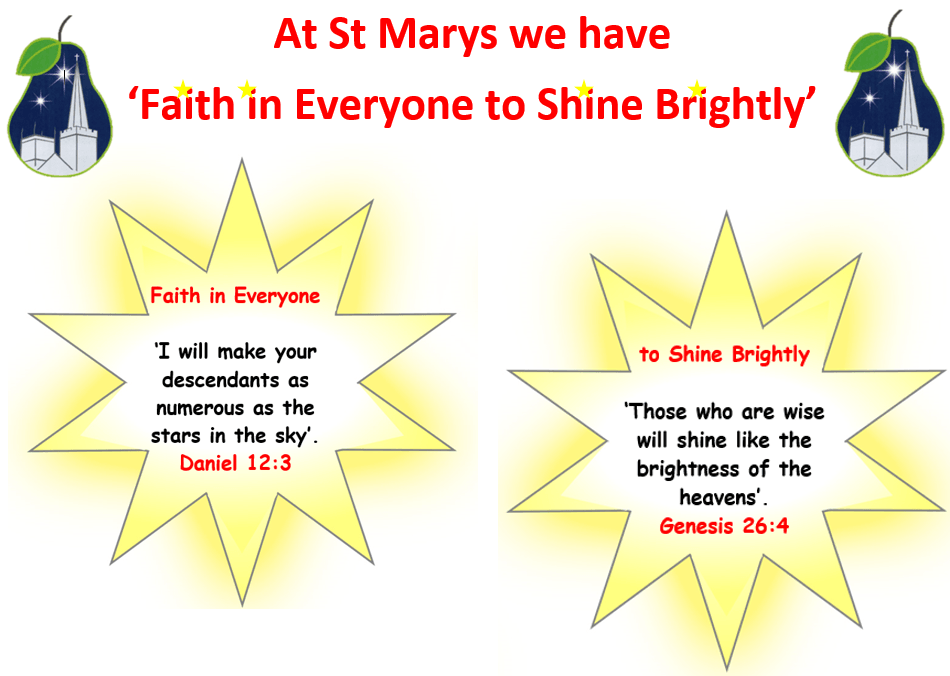 Religious Education – Statement of intent
At St Mary's we believe that RE is inclusive. We aim to equip our children with the skills and wisdom to prepare them for modern Britain. We have a strong Christian distinctiveness, underpinned by our values. Each term we have two values which are our focus and link to out fortnightly big questions in all year groups. Our big questions are all underpinned by our 'shining brightly' ethos, which is grounded in a Christian narrative, underpinned by biblical teaching.
A group of children, staff and Governors worked together to develop the vision by which we can all live at St Mary's and makes us distinctive. We took our inspiration from the fact that the famous fifth Astronomer Royal, Nevil Maskelyne (1732 –1811), is buried at St Mary's Church, we felt our ethos could build on an astronomical analogy.
Faith in everyone to shine brightly is at the heart of all we do. The children aspire to shine brightly, the staff aspire to shine brightly, and we encourage everyone to have faith and shine brightly in all that they do.
Where does our vision come from and what does it mean to 'shine brightly'?
Our vision for RE comes from our school vision: faith in everyone to shine brightly. We feel this phrase encompasses our strong belief that everyone at St Mary's has the capacity to shine brightly in all they do. All St Mary's children are stars who can shine through their talents, attitude, and efforts. We use our 'shining brightly' ethos and the 'stars and space' analogy across the school to inspire everyone.
We encourage all children to be respectful of all faiths and tolerant of other beliefs. Our curriculum allows children to develop their knowledge and understanding of these faiths and beliefs and enables them to ask and explore life's 'big questions'. Our curriculum is broad, balanced and informed by our vision.
RE – Statement of implementation
At St Mary's each term two specific Christian values are explored, celebrated, and lived out through our carefully planned curriculum. Our values, big questions and lessons taught are intertwined to ensure that our children can access the curriculum and have the opportunity, to shine brightly. Significant local, national, and international events are marked and celebrated with relevance and meaning.
As a Church of England school, we seek to follow the Church of England's Statement of entitlement for Religious Education. It says:
The aims of Religious Education in Church schools are:
To enable pupils to know about and understand Christianity as a living faith that influences the lives of people worldwide and as the religion that has most shaped British culture and heritage.

To enable pupils to know and understand about other major world religions and world views, their impact on society, culture, and the wider world, enabling pupils to express ideas and insights.

To contribute to the development of pupils' own spiritual/philosophical convictions, exploring and enriching their own beliefs and values.
What do we teach in RE?
In RE we aim to give children a grounded understanding of Christianity and the major world faiths. As the children progress through the school, they will encounter different religions and worldviews. In Key Stage One, children will encounter Christianity, Judaism, Islam, and Judaism. In Key Stage Two, children will revisit these religions, but also encounter Hinduism, Sikhism, and non-religious views, such as Humanism.
An important aim of RE is that children are encouraged to reflect on their learning and make their own decisions about what they believe. The aim of RE is not to make children into religious believers, but to understand that religion still influences and sustains many people in the world today, and to consider the wisdom of faith traditions, and reflect on what they might take from it. Our teaching is rooted in the Church of England, but we provide a space for all children to express their home religion, or for those of no faith.
Our curriculum follows Understanding Christianity and Discovery RE whereby children aim to answer a 'big question'. This will involve learning about what a faith might say, investigating it further and analysing. Finally, children will reflect on what they might feel is their personal response to the big question.
Religious Education at St Mary's may be taught through Art, Drama, Storytelling and investigating artefacts. We encourage children to develop a knowledge of the rich tradition of religious art and music; responding and reflecting on what they may learn from it. We try to bring in visitors and take children out to experience religion in the real world.
Above all, we believe that the Christian values underpinning our education will enable the children to become confident, reflective, spiritual and morally aware people who can play a role in shaping modern Britain.
Religious Education – Statement of impact
Our RE curriculum aims
For all children to have an outstanding level of religious understanding and knowledge, this will include a range of religions and worldviews thus enabling them to engage in informed and balanced conversations about religions and beliefs.

For all children to be inquisitive and ask significant and reflective questions, giving personal reflections on meaning and purpose.

For all children to have a positive attitude to those who hold religious beliefs which are different from their own.

To embed courageous advocacy as a whole school approach and enable our learners to stand up for what is right.

For all children to develop spiritually, morally, socially and culturally and to reflect on their own beliefs, being able to be discerning about the many attitudes and opinions they will encounter.

To offer opportunities for personal reflection and spiritual development. Children are asked to consider their relationships to themselves, others, the planet, nature, suffering, pain, death and beyond. The world beyond which is merely material.