'Faith in Everyone to Shine Brightly'
Reading is an important and vital life skill. We encourage all children to read regularly both in school and at home. Please ensure that when you read with your child you complete their Reading Journal regularly. Any comments you make provide the teachers with valuable information about your child and their reading habits.
We provide the children with a range of reading books from a variety of reading schemes and from popular authors. These books are available from the School Libraries. We use a range of schemes across the school to develop reading fluency and understanding. Your child's class teacher will ensure that your child chooses a book that is suitable to their particular need and that will address their reading targets which you will find in the front of their reading journal.
Reading Vipers - the St Mary's newsletter for parents and carers of little bookworms…
Reading is a gateway into a world of imagination, entertainment and learning! With that in mind, we would like to welcome you to the brand-new St Mary's newsletter that's all about reading.
Autumn Term Issue 1 Autumn Term Issue 2
Quality Texts
The quality of the texts children read is hugely important: well-written texts impact much more than just a child's reading fluency: their reading comprehension, their writing quality and their understanding of grammar will all be significantly improved through reading good texts.
Age-appropriate, high-quality texts will...
expand children's vocabularies through introducing them to new words;
show them the impact of combining words into powerful phrases;
embed sentence structures in their memories, which they can replicate in their own writing;
enable them to experience effective punctuation and grammar;
and allow them to engage at a higher level with characters, plots and themes.
A useful source of age-appropriate, high-quality texts can be found at the Book Trust. The poster below contains a wealth of top titles!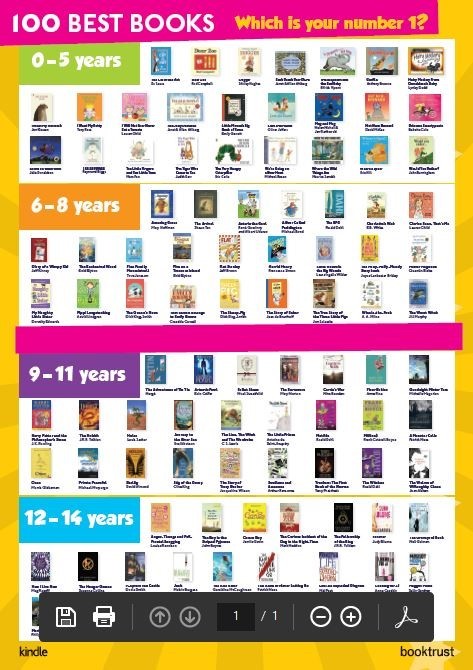 Phonics
Phonics is taught across the school. In earlier phases Floppy's Phonics (Oxford Reading Tree) is used and in later phases Phonics International is used (written by the leading phonics expert, Debbie Hepplewhite, who trained the St Mary's staff personally).
If you would like more information about phonics and how you can help at home please speak to your child's class teacher.