______________________________________
The School Day
Mornings:
The gates open at 8:40 a.m.

Lessons start at 8:50 a.m.

The front gates are locked promptly at 8:50 a.m. and the back gate is locked at 8:55 a.m. to allow parents/carers to leave the site. (NB children arriving after 08:50 are marked as late in the register.)
Afternoons:
Total time this amounts to in a typical week: 31.25 hours
______________________________________
Key Information for Parents & Carers

Please ensure you and your family are familiar with the following rules & routines:.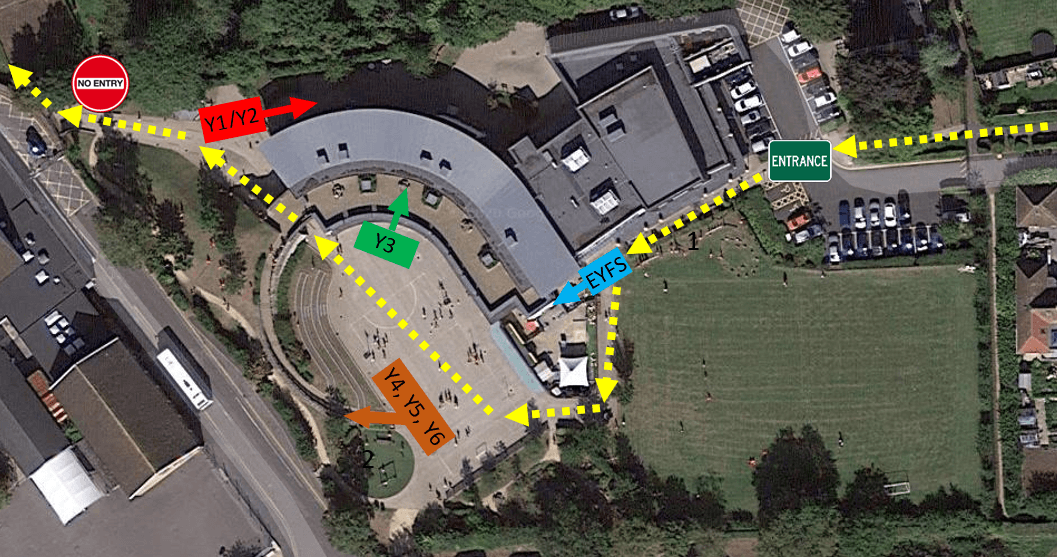 We have a one-way system on our school site to help keep the site secure.

Please remember you should

not come back under the bridge onto the main playground at pick up time once you have gone round to the back of the building.
The children can arrive from 8.40am:

lessons start at 8.50am

. (The gates will be locked at 8.55 am to allow time for all parents and carers to vacate the site.

Any children arriving after 8:55am will

be marked as late

.)

There is absolutely NO vehicular access onto the school site, unless by prior arrangement. There should be absolutely NO parking in Bradon Forest at all.

Please ensure children have the correct school uniform and that all footwear is black and suitable running around and being active every day.


At end of the day, the gates are opened at 3.00pm. Children are collected on the playground. Note: we will not let your child go until you are there.

Lessons finish at

3.05pm

.
Please limit conversations with staff at drop-off and collection

: w

hilst this is often important communication, such 'quick words' soon result in staff members having dozens of face-to-face interactions each week, that could have been communicated in a different way: if you need to get a message to a teacher, please contact the admin team via email (admin@st-marys-purton.wilts.sch.uk) or phone (01793 770239), who will ensure your message or request is passed on. Members of staff can then contact you on the phone or email as appropriate, as soon as they are able.

Hot school dinners are bookable through Parent Pay. Please note, meals must be booked for all children, including those who have income-related free school meals or universal infant school meals.
________________________________