MATHEMATICS AT ST MARY'S
Mathematics Leads: Beth Gault & Fliss Lambe
Link Governor: Andy Fryer
'Faith in Everyone to Shine Brightly'
Maths at St Mary's
Our Maths lessons at St Mary's follow the Can Do Maths scheme of learning. We aim for our Maths lessons to be inclusive for all pupils, with everybody studying the same topic and being provided with support and challenge as needed. We use the Concrete Pictorial Abstract (CPA) approach and here are just a few examples of equipment that pupils have access to, to support and stretch their understanding.
Our maths curriculum at St Marys is designed to build deep understanding, confidence and competence in maths – a culture that produces strong, secure learning and real progress. A typical lesson is structured into into four main parts.
Interleaving/flashbacks - actively recalling learning from last year, last month, last week, last lesson.
'Do it' - teacher introduces and models new learning broken down into a small step. New vocabulary is introduced and used in full sentences with the children.
'Twist it' – misconceptions are addressed, examples of what it is not.

Independent work following the 'do it, twist it, secure it' approach.
We have one maths lesson in the mornings and one additional 'Maths on Track' session later in the day. This is a 20 minute session which focuses on deliberate practice, consolidation, pre-teaching and/or immediate intervention.
We use small steps to teach our lessons so that pupils will:
Become fluent in the fundamentals of maths so that they develop conceptual understanding and the ability to recall and apply knowledge rapidly and accurately.
Solve problems by applying their mathematics to a variety of problems with increasing sophistication, including in unfamiliar contexts and to model real-life scenarios.
Reason mathematically by following a line of enquiry and develop and present a justification, argument or proof using mathematical language.
To support our maths lessons, we also use Maths Shed (for homework and additional resources in class), Times Table Rock Stars (to develop multiplication fluency and related division facts) and Numbots in KS1 (to develop addition and subtraction number facts).
Maths in EYFS is taught in a very practical way. Activities are designed to enable children to 'do' and 'talk about' the maths. Can Do Maths is used in EYFS to support teaching of the EYFS Statutory Framework and Development Matters. Click the links below to see what is covered in each unit.
Unit 1 Unit 2 Unit 3 Unit 4 Unit 5 Unit 6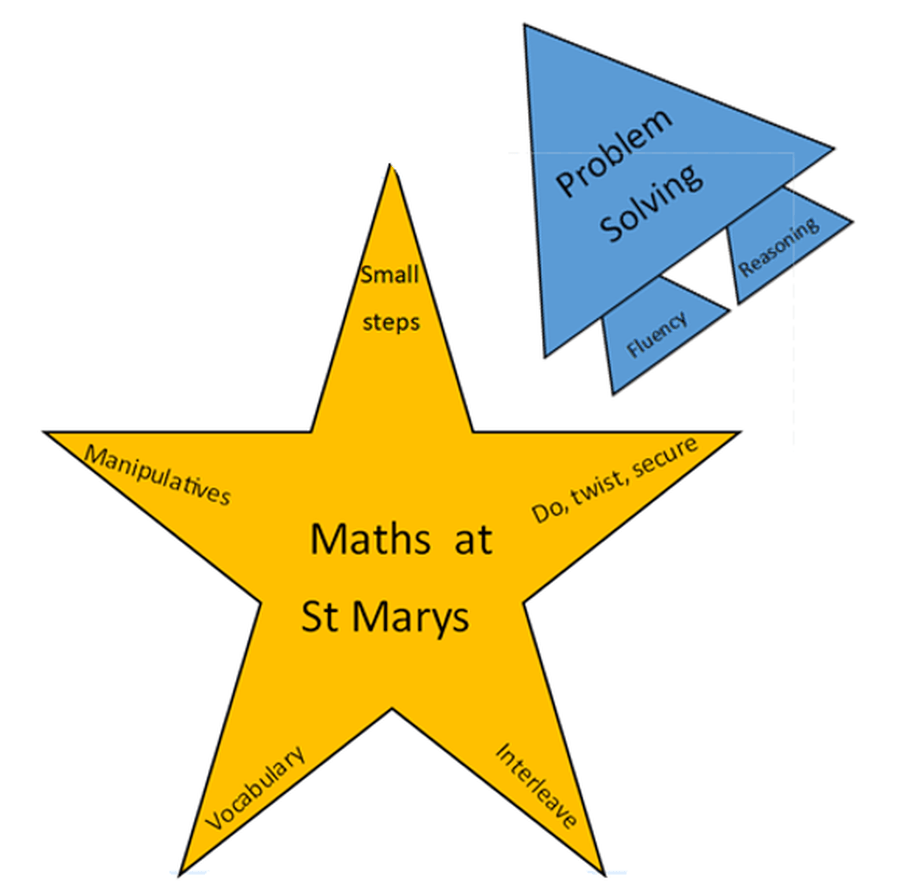 Key Learning and Vocabulary
Click the links below to access our knowledge organisers. They capture the key learning for the term and list the specific language that we will be using in each year group. In our maths lessons, we explain how we know something is correct and reason by using mathematical vocabulary.
Term 1 Term 2 Term 3 Term 4 Term 5 Term 6
Year 1 Year 1 Year 1 Year 1 Year 1 Year 1
Year 2 Year 2 Year 2 Year 2 Year 2
Year 3 Year 3 Year 3 Year 3 Year 3 Year 3
Year 4 Year 4 Year 4 Year 4 Year 4 Year 4
Year 5 Year 5 Year 5 Year 5 Year 5 Year 5
Calculation Policy
Maths methods and strategies taught in school may be different from those that parents may have learnt when they were at school. This can cause confusion when parents are trying to support their child at home.
We use The White Rose Calculation Policies, which can be seen below. These show the main methods taught (in specific year groups) for addition, subtraction, multiplication and division. Each child's progress is different; however, most children will acquire the listed methods by the end of the school year.
___________________________________________________________________
'Times Tables Rock Stars' Day 2021
We have had so much fun playing games, battling other classes and dressing up as rockstars for our Times Table Rock Star Day. Times tables, division facts, addition and subtraction facts are extremely important and underpin many areas of mathematics. We are working really hard this year on becoming fluent in these facts. EYFS, Year 1 and Year 2 are learning and consolidating addition and subtraction facts and Years 3, 4, 5 and 6 are working on knowing all our times tables confidently. One easy way to support your child at home with these things is encouraging them to play TTRS or Numbots regularly.
Click here for more ideas of how to support your child at home with their maths.
Maths Day 2021
We had a great time during our whole school Maths Day becoming 'money wise'. Every class, from EYFS up to Year 6, spent the day focussing on money. In our 'Shining Brightly' assembly, we heard all about making 10p and buying sweets from a sweet shop, coin hunts, maths stories, maths games, currency, budgeting, party planning and designing theme parks!