Down on the farm...
Down on the farm...
15 March 2018 (by Danielle Bond (dbond))
Year 1 visited a farm today...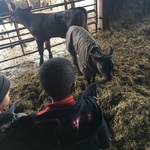 This morning, Classes 3 and 4 were lucky enough to visit Quarry Farm. We set off on a wet and muddy walk after the register and arrived around 9.30am. When we arrived, we were met by farmers Jon and Sarah. They gave us a quick talk about how to keep safe, then the fun could begin! First of all, we went to see the pigs. There was four pigs and they were all pink. We learnt that the pigs are sometimes fed on milk and that pigs give us bacon and sausages. Next we went into the milking parlour. Sarah told us all about how the cows are milked and showed us some of the equipment they use. We learnt that the cows are given 'cow cake' to keep them still and settled whilst they are being milked. Only 6 cows can be milked at once. Some of us were brave enough to feed the cows with cow cake; it was very slobbery! We saw the tank where the milk in kept, and had a look inside. Jon and Sarah sell their milk to Cadbury's and it is used to make chocolate. After that, we went to meet the calves. The calves were very friendly and liked to lick us! One even tried to eat Miss Bond's scarf! We also got to see the donkeys and the bull, James; he was enormous! We had lots of fun at Quarry Farm, and would like to visit again in the summer!