Cluster Athletics success!
Cluster Athletics success!
11 July 2016 (by admin)
St Mary's had a great time at the Cluster Athletics last week.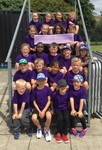 The Key Stage 2 Athletics Team won silver Medals at the Cluster Athletics competition in Swindon last week. 6th Place was awarded to our Key Stage 1 team. The athletes were accompanied by the Sports Councillors and a fantastic day was had by all. Congratulations St Mary's!