A Grand Morning
A Grand Morning
23 February 2018 (by Jody Hill (jhill))
KS1 welcomed grandparents and family into our classrooms to hear what it was like when they were young.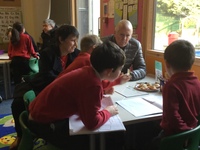 On Wednesday grandparents and parents were invited in to spend the first part of the morning with us. The children were very excited to be able to interview their family about how things have changed and some of the answers really shocked us. Just imagine some parents only had three channels on their televisions whilst some grandparents didn't even have a television or a telephone!
Many thanks to all our visitors we really appreciated you travelling and spending your time with us.