Ice pics
Ice pics
11 December 2017 (by Russ Payne (rpayne))
SCHOOL OPEN TUESDAY - BUT IT IS DUE TO BE VERY ICY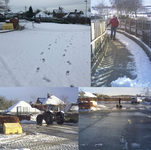 As you can see from our 'ice pics' (see what I did there?) there have been a few staff and friends on the school site today ensuring that it is as safe as we can make it ready to open on Tuesday. Huge thanks goes to 'farmer' Jon Cook (that's him in the tractor with the snow plough!), Alex Thomas and Aaron Read who gave up their time this afternoon to help us. Also, thanks to Les Sawyer, Sarah and Steve Heath, Liz Stephenson and Emma Wheeler.
WARNING: Temperatures are predicted to plummet this evening and ice will be a concern in the morning. Whilst we will grit as much as we can again from 7am tomorrow morning, it is likely to remain very slippery.
Please ensure tomorrow that children are wearing suitable non slip outdoor shoes (they can change shoes when they get to school if they like) and a coat.
Children and adults must stick to the gritted paths, please.