Year 1 - Class 3
Teacher: Mrs Felicity Lambe
Teaching Assistants: Mrs Sarah-Jayne Broadfoot and Mrs Chloe Eastman.
Our topic for the Autumn Term is:
Poles Apart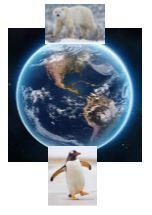 For the Year 1 overview please click here.
To access Term 2 homework please click here.
Welcome back to a world of adventure!
We are very excited to be able to use a revamped outside area for the whole of Key Stage 1. Our new continuous provision approach will enable all of the children to continue to develop their independent learning skills whilst also accessing the relevant Key Stage objectives. This approach will ensure that the children will continue to have an extensive independent learning experience.
This term is all about the extreme environments found on Earth! There will be expeditions, explorations and experiments galore as we journey from the Arctic all the way to the Antarctic. We will be learning about the climate in a variety of regions and the animals that have adapted to live in those areas. We shall then compare our new knowledge about the world with our own local area.
Key Dates
Tuesday 13th to Monday 19th November - Book Fair in the Hall after school.
Wednesday 14th November - EYFS to Year 5 Flu Vaccinations.
Friday 7th December - PTA Christmas Fayre 3.30pm - 5 pm.
Monday 10th December - PTA Shopping morning.
Tuesday 18th December - Christmas Performance at 9.15am.
Wednesday 19th December - Christmas Performance at 10.30am.
Thursday 20th December - Christmas Lunch and Party.
Thursday 20th December - End of Term for Pupils.
Friday 21st December - Teacher Training.
(Please note, we do our best to arrange these, but please be aware that they are intended activities and are subject to change)
Celebrating
At the end of every term, the whole school gathers for a celebration of each classes achievements.
This event is when those children that have completed 5 pages of their reading record are recognised and given
certificates and badges. The challenge this term is for the whole class to achieve this award!
The celebration assembly is also when the "Headteacher", "Reading" and "Numbercruncher" awards are announced for each class. These three children are able to come up in front of the whole school to be celebrated.
Phonics- Year 1
This term we will be moving onto Phase Four in the Floppy's Phonics Scheme. We shall be learning the alternative diagraphs for those that we have already learned.
A couple of useful phonics and reading websites are:
You don't need to subscribe there are lots of free games. Phase 2-4 games cover our learning in Foundation and Phase 5 will cover our learning this year.
http://www.bbc.co.uk/cbeebies/shows/alphablocks
Any games or clips will help
You have to register to access the above site, but it is free and you can access over 250 free ebooks which are also tablet friendly.
Mathematics
Maths methods and strategies taught in school today are different from those that many parents learnt when they were at school. This can cause confusion when parents are trying to support their child at home. In order to help, the document below shows the main methods taught (in specific year groups) for addition, subtraction, multiplication and division. Each child's progress is different; however, most children will acquire the listed methods by the end of the school year.
An overview of calculation strategies and methods - Key Stage 1
Volunteering
If you are interested in volunteering in school please come in and see us, we love having helpers in.
(You will need to be DBS checked, if you haven't already been checked please see Mrs Stephenson in the office.)
With many thanks for your continued support.