Welcome to Class 1
Our Teachers are Mrs Fudge and Mrs Imeson

Our TA's are Mrs Wadsworth and Mrs Eastman
Happy New Year!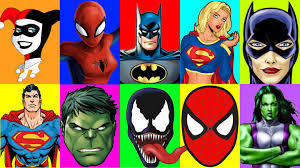 We will be flying into 2018 as Superheroes! Don't forget that the children are invited to come to school on Thursday 4th January dressed as a Super Hero of their choice.
We will spend this short term learning about different Super Heroes (I'm sure the children will be teaching the adults a thing or two!) .
The children will be looking at the characteristics of a 'superhero', what makes a superhero, what do they look like? What does a superhero wear? How do they travel? Can the children be superheroes and solve a variety of problems? The children will be able to explore Superheroes through the seven main areas of the EYFS Framework. They will be: taking turns and resolving conflicts with their peers, expressing themselves effectively showing awareness of listeners needs, using talk to organise, sequence and clarify thinking, ideas and feelings, and developing a knowledge of how to maintain a healthy lifestyle and how to stay healthy. The children will be expected to now use the correct pencil grip when drawing and writing. They will begin to give more in depth meanings to the marks they make, which will now move on to understanding and creating a sentence with finger spaces, a capital letter and full stop. As part of their motor development, the children will be improving their cutting skills, using a variety of activities to support this, which will also include fundamental movement skills in and out of the classroom.
We have learnt a variety of sounds already including 's, a, t, p i, n, m, d, h, b, g, o, c, k, ck and f' You can have lots of fun with these letters at home. Write them on scrap paper and manipulate to make lots of different words both real and nonsense for the children to practice sounding out. We have also learnt the tricky words 'the , I, go, to, no, into and he'. Encourage your child to recognise these words in any books you read or on any signs when you are out and about.
A fun approach to phonics: alphablocks
Children will be bringing home new homework booklets this week to reinforce the learning they are doing in the classroom. Please work through these booklets at your own pace however please refrain from completing more than 1 sound each day. You could mix it up a bit by completing a sound and a tricky word page or why not practice some number recognition or practice counting both forwards and backwards but don't always start on zero.
The children will be spending as much time as possible learning outdoors so please ensure they have wellies to leave in school, and a warm waterproof coat, both clearly named.
Please record any books that you have shared and discussed with your child or read to them. The children are doing so well with their reading, we are really proud of each and every one of them. It would be fantastic if every child could finish the term off by achieving their five page reading certificate and reading badge.
Please pop in and see us if you have any questions.
Please click this link to view our topic web