Building on our strong, established curriculum (as detailed below, which has been in place since 2014), we have recently been revising our curriculum intent and implementation to make it even more engaging and purposeful for our children. Details on our 'new' curriculum will be shown here soon.
At St Mary's we aim to deliver an inclusive and engaging curriculum for all children. We strive to ensure our curriculum is broad and balanced and promotes our national values, particularly those of tolerance and mutual understanding.

Our exciting, cross-curricular topics are built on the Statutory Framework for the Ealy Years Foundation Stage (2014) and the National Curriculum (2014) and form a two-year rolling programme.
You can see our curriculum overview map by clicking the image below.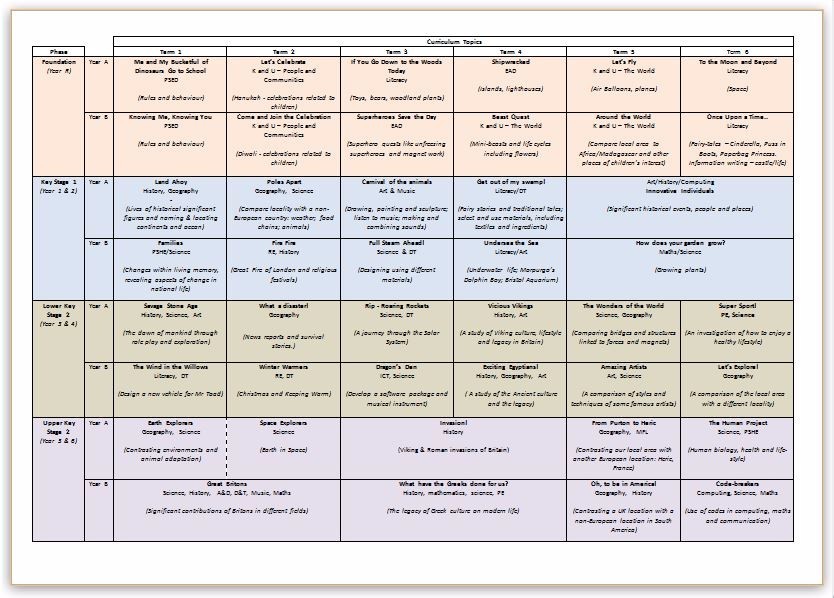 You an find out more about our curriculum by looking at our class pages or by speaking to any member of teaching staff. The links below might be of interest too.
Mathematics
We use Abacus Maths as a key part of our mathematics teaching and learning and also to support learning at home.
Reading, phonics and spelling
We use Floppy's Phonics, Phonics International, and Read, Write, Inc from Oxford University Press to support our reading, phonics and spelling learning. You can read more on our 'reading' page, here. We also use Spelling Bug and Grammar Bug to further support our spelling and grammar work and homework.
Handwriting
Handwriting is an essential part of our writing curriculum. Cambridge Penpals helps ensure consistency across the school.
Science
Our engaging science work is underpinned by the Science Bug resources.
Computing
Our computing curriculum is supported through the use of Rising Stars 'Switched On' Computing.
Music
Charanga provides an exciting range of pieces of music and songs in a wide range of musical styles to ensure that music lessons at St Mary's are engaging and progressive.

Religious Education
As a Church of England school, Religious Education is an important part of our curriculum. We work closely with the Bristol Diocese and follow The Wiltshire Syllabus, as well as other resources, to support our worship and our RE teaching.
---
Please note: the school cannot be responsible for any other website's content.
---