Our Worship Themes & Values
Worship Themes
We have termly themes that form the basis for our school and class worship.These themes enable St Mary's to have a discussion and learn about important moral, religious and social ideas together as a whole school community.
Spiritual, Moral, Social, Cultural Development (SCMC) and British Values
The Worship Themes build on Spiritual, Moral, Social, Cultural Development (SMSC) and also our British Values.
Spirituality
We aim to seek out the spiritual in our learning at St Mary's. See our Class Pages for some of the ways spirituality will be explored in this term's topics.
----------------------------------------------------------------------------------------------------------------------------------
Term 3, Spring 2018: Justice
This term we will be focussing in school on the value of Justice. Some of the things we will be considering are:
How does St Mary's make children aware of global justice issues?

How do we support charities?

What strategies are in place to ensure that rules and procedures in school are fair and just?

Encouraging pupils to take responsibility for each other in the school community
A Christian perspective on Justice: The justice revealed in the Bible is always seen in the context of love. It includes the call to take responsibility for one another, especially the poor and oppressed, and to see that no-one is excluded from the essentials of life.
There are lots of interesting things to do on this term's JUSTICE activity sheets. Click the image below to download your copy.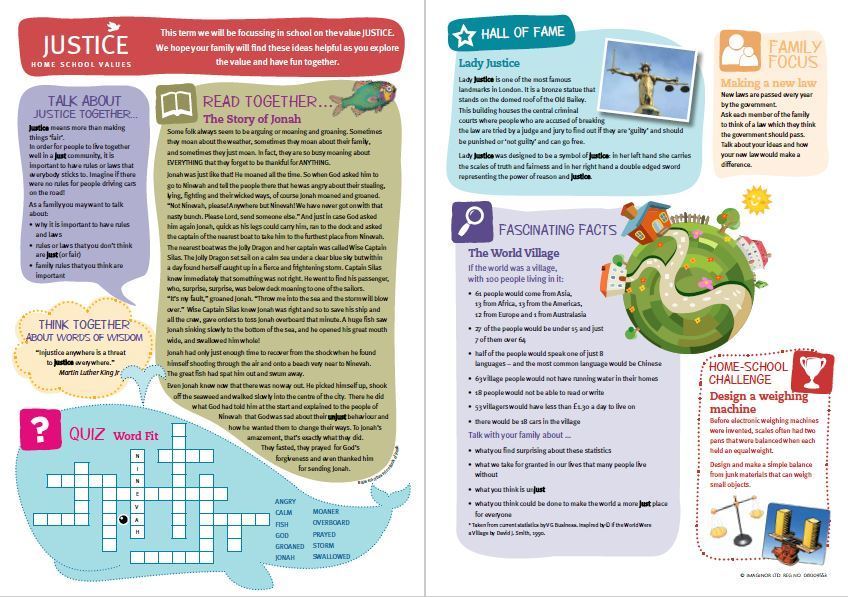 ------------------------------------------------------------------------------------------------------
Term 2, Autumn 2017: Friendship
Friendship is always an important aspect of life at St Mary's - after all, our motto is 'working together'! This term we have chosen to make 'Friendship' our worship theme.
This will lead us to focus on the British value of 'mutual respect and tolerance of those with different faiths and beliefs' as well as many aspects of Spiritual, Moral, Social, Cultural Development (SCMC) such as: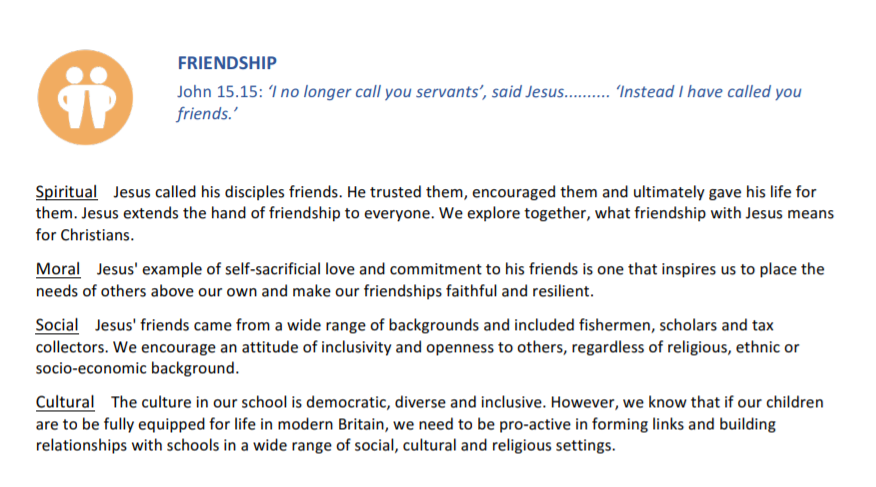 There are lots of interesting things to do on this term's FRIENDSHIP activity sheets. Click the image below to download your copy.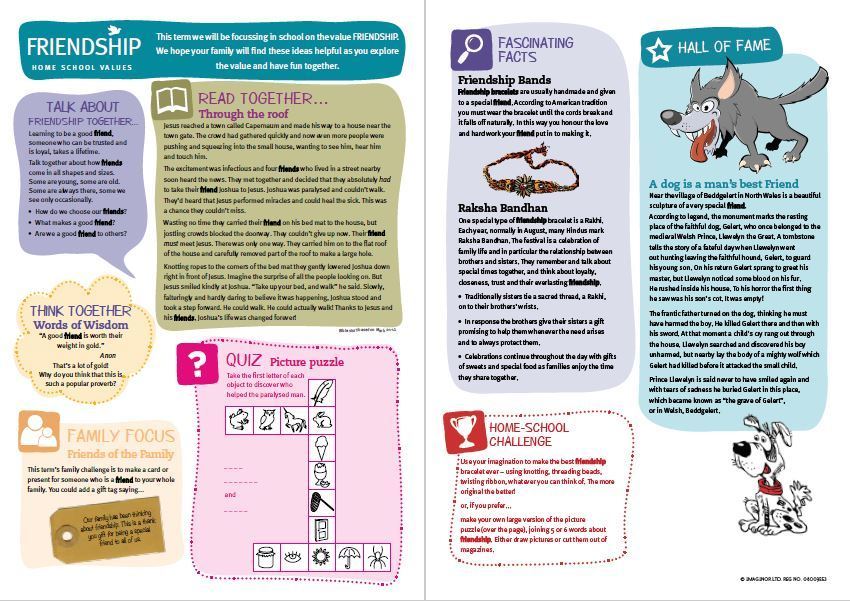 ------------------------------------------------------------------------------------------------------
Term 1, Autumn 2017: Tolerance
This term, our theme of Tolerance leads us to focus on the social development aspect of SMSC, and the British value of 'mutual respect', as we learn how to demonstrate tolerance and respect to other people, their beliefs and opinions.
There are many children's books that teach tolerance and encourage their readers to be respectful of all types of people regardless of race, religion, ethnicity, disability, gender or sexuality. Here are some top quotes:
A person's a person no matter how small.
Dr Seuss, Horton Hears a Who!
We all live with the objective of being happy: our lives are all different and yet the same.
Anne Frank, The Diary of a Young Girl
What was it about the differences in others that scared some people so much?
Malorie Blackman, Noughts and Crosses
Every human life is worth the same, and worth saving.
Kingsley Shacklebolt via JK Rowling, Harry Potter and the Deathly Hallows
What exactly was the difference? he wondered to himself. And who decided which people wore the striped pyjamas and which people wore the uniforms?
John Boyne, The Boy in the Striped Pyjamas
This planet is for everyone, borders are for no one. It's all about freedom.
Benjamin Zephaniah, Refugee Boy
Any problem can be solved between people if only they can trust each other.
Michael Morpurgo, War Horse
------------------------------------------------------------------------------------------------------
Term 6, Summer 2017: Hope
The value hope is about much more than just wishing as hard as we can that things will be different. It is about believing that the world can be better and being prepared to do something! Noah (in the story on the activity sheets) was willing to look silly in front of his neighbours by building a huge boat even though he lived miles from the ocean, because he hoped and believed that God had a plan.
As a family you may want to talk about:

• your hopes and dreams for the future
• what you can do to make them happen
• what others need to do
There are lots of interesting things to do on this term's HOPE activity sheets. Click the image below to download your copy.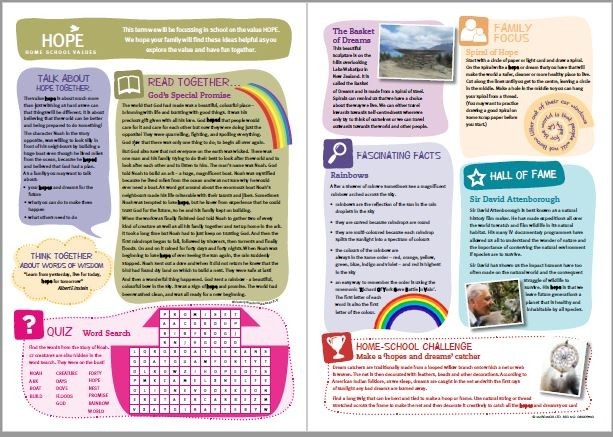 Term 5, Summer 2017: Peace
As a school we will be looking at how we can encourage ourselves to appreciate quietness, to find opportunities for calm reflection and to experience different kinds of peace. We are also looking at how we can solve our differences in a constructive way, and to develop the skills of a peacemaker. From a Christian perspective, we are introducing the concept "peace with God" – as Jesus said, "Blessed are the peacemakers, for they shall be called children of God." (Matthew 5:9).
Term 4, Spring 2017: Thankfulness
This term we will be focusing on the value Thankfulness. We will be encouraging the children to be appreciative and have a thankful attitude for things we often take for granted. Please find attached the Home School Values sheet with ideas for you to share with your children at home.
A Christian perspective on Thankfulness: Christians believe that God loves and cares for them in many different ways in all aspects of their life. They know that their response to this provision should be one of thankfulness and praise.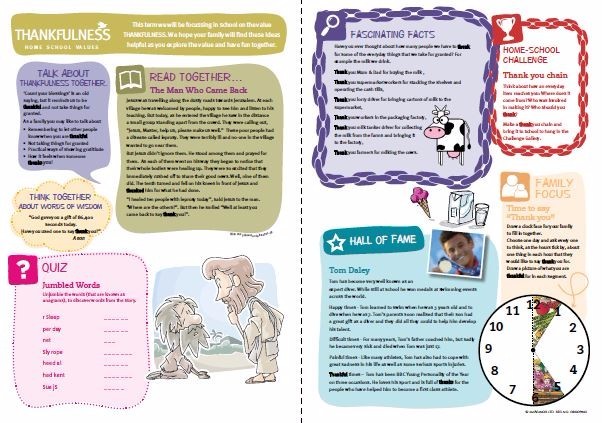 Term 3, Spring 2017: Courage
Our Value for this term is Courage. We will be looking at the Christian perspective on Courage, the claim that God is always present in every situation. This belief has led to great acts of courage that have included facing danger and opposition, overcoming fear, making a stand for what is right and encouraging others to persevere.
Try our Courage activities at home by clicking the image below: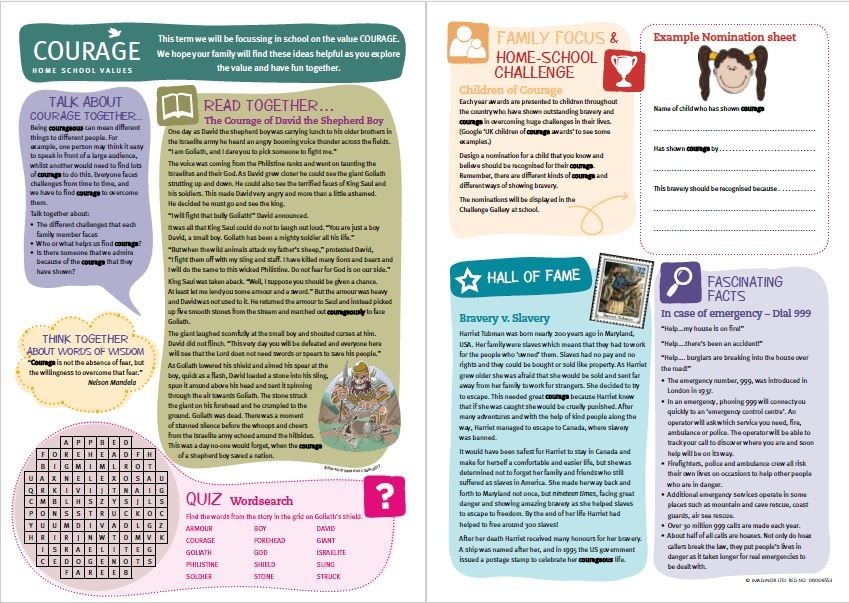 Term 2, Autumn 2016: Forgiveness
This term our Collective Worship value is Forgiveness. We will be looking at how Forgiveness is the means by which damaged relationships are restored.
As a whole school community we will be looking at how adults and children are helped to acknowledge that we all make mistakes and we all need forgiveness from God and each other. Also, how do we make amends for our mistakes and how does the school celebrate the idea that God's love is so treat that forgiveness is always possible?
Try our activity sheets here!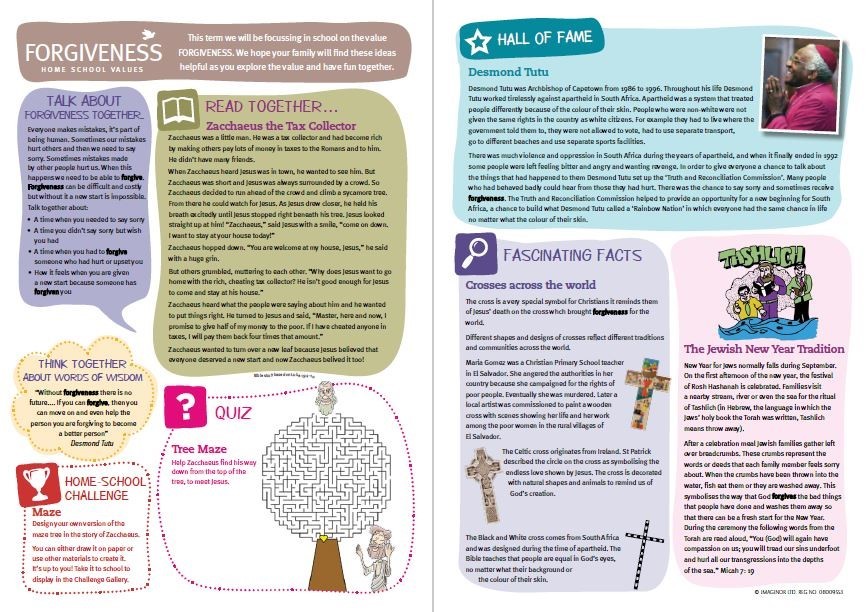 Term 1, Autumn 2016: Trust
This term our Collective Worship value is Trust. We will be looking at the Christian perspective on Trust, being the bases of all stable relationships. Also reflecting as a whole school community on how we show children in practical ways what it means to have trust in others, how we can demonstrate sensitively the repercussions when trust is broken and how role models can show us different kinds of trust that work in our school community and the wider world.
Try our Trust activities at home here!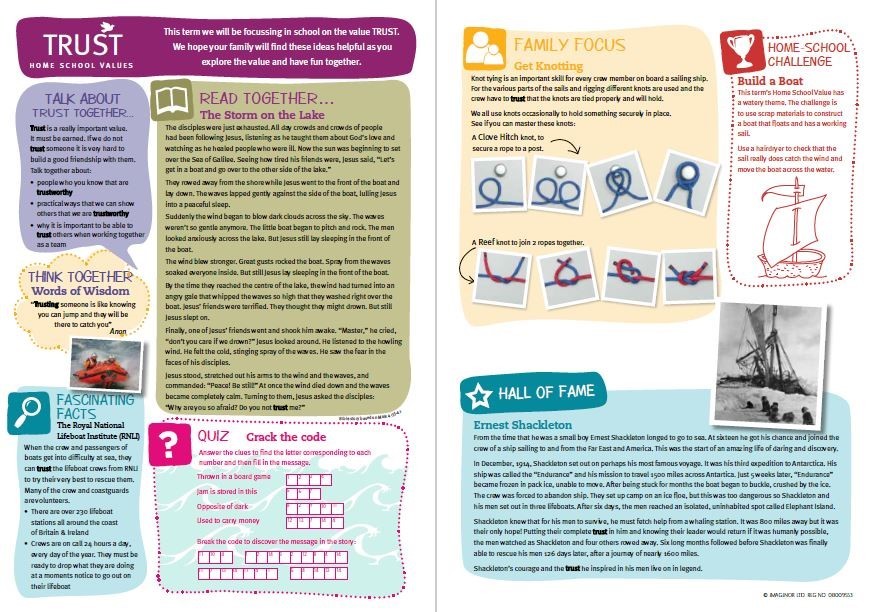 Term 5, Summer 2016: Wisdom
Try our Wisdom activities at home here!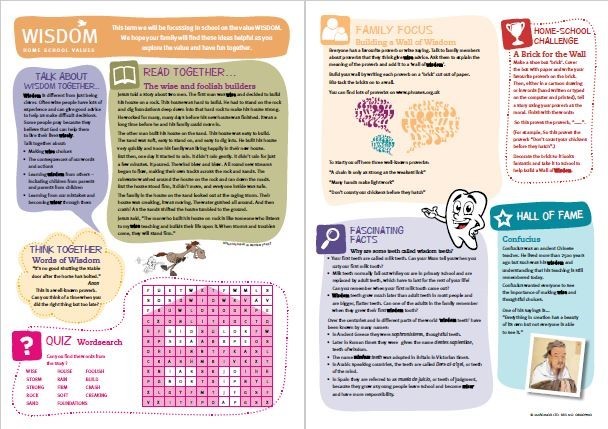 Term 4, Spring 2016: Humility
Try our Humility activities at home here!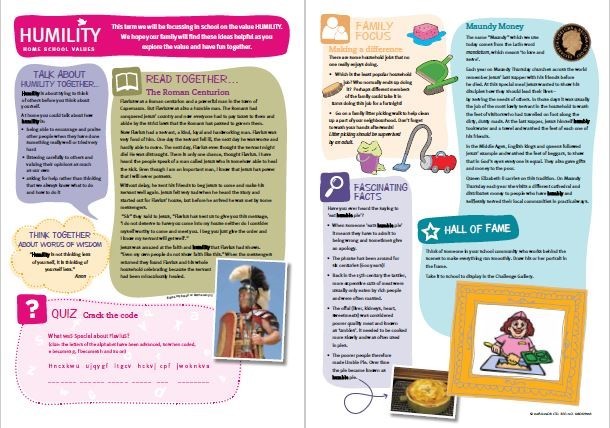 Term 3, Spring 2016: Respect
Try our Respect activities at home here!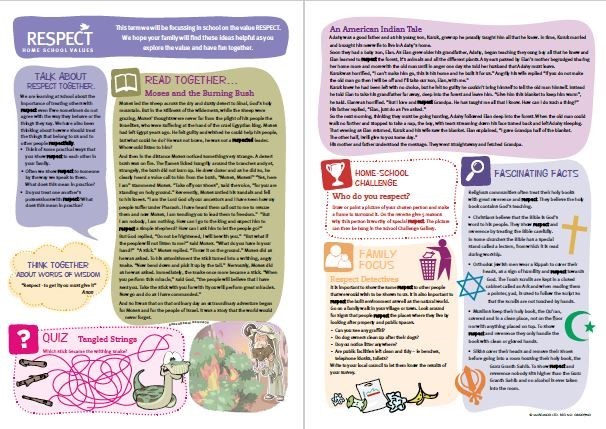 ---
Term 2, Autumn 2015: Generosity
Try our Generosity activities at home here!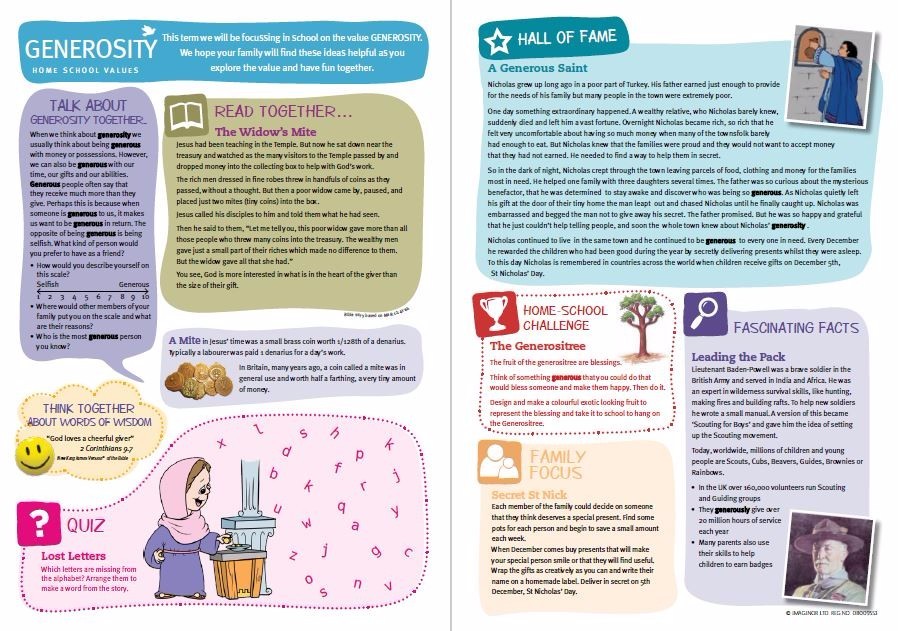 ---
Term 1, Autumn 2015: Responsibility
Becoming responsible means being a person who can be trusted to do their best.
Being responsible means being prepared to stand up for others.
An irresponsible person acts in a way that hurts others, doesn't care about their feelings, and just does what pleases them.
An irresponsible person refuses to face up to the damage or hurt that he or she may cause.
Responsibility is thinking about what's best for everyone, not just what suits one individual.
You'll need to think about responsibility at school and at home when:
you are given a job to do in the class/school on behalf of others. For example, acting as a school council representative, classroom monitor or learning buddy

you are prepared to own up to something you have done wrong

you care for a younger sibling or friend

you represent the school as part of a team on a special occasion

you have the job of looking after a pet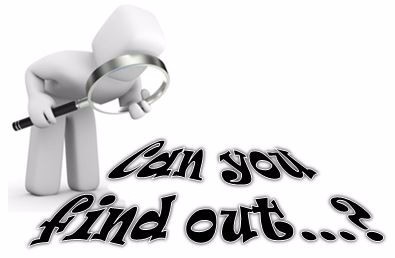 Some Bible story links to find and think about:
1. God gives human beings the responsibility of caring for the world and of naming the animals - see Genesis 2:4-20.
2. The story of Cain and Abel - see Genesis 4:1-16.
3. Jethro advises Moses to share the heavy responsibility of leadership - see Exodus 18:13-27.
4. Moses hands over his responsibilities to Joshua - see Deuteronomy 31:1-8.
5. Jesus gives responsibility to 72 followers to carry on his work - see Luke 10:1-9
6. The church at Antioch gives Barnabas and Saul the responsibility of being missionaries - see Acts 13: 1-3; and they report back on a job well done in Acts 14: 27.
7.God gives human beings a job to do - see Psalm 8:5-9.
(Suggestions adapted from http://www.barnabasinschools.org.uk/)
---
---
Term 6, 2015: Compassion
This term we are exploring what living our lives with compassion means.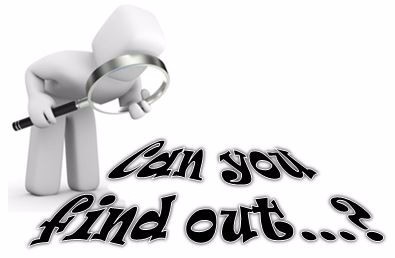 Talk at home about the 'Footprints' poem and the Bible passages below. Can you decide what they each teach us about 'compassion'?
Footprints in the Sand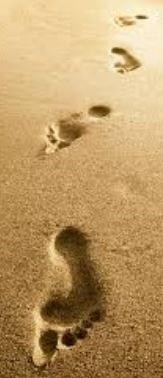 One night I dreamed I was walking along the beach with the Lord
Scenes from my life flashed across the sky,
In each, I noticed footprints in the sand.
Sometimes there were two sets of footprints;
other times there was only one.

During the lowest times of my life
I could see only one set of footprints,
so I said, "Lord, you promised me,
that you would walk with me always.
Why, when I have needed you most would you leave me?"

The Lord replied, "My precious child,
I love you and would never leave you.
The times when you have seen only one set of footprints,
it was then that I carried you."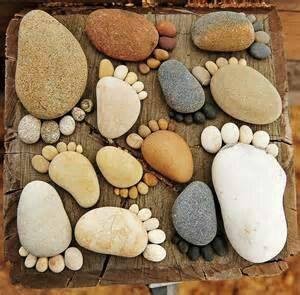 Footprints
The Lord will always walk with you
Along life's blessed beach,
His footprints there beside your own,
Always within reach.
Two sets of footprints, side by side,
From dawn to setting sun,
Yet there may come a day, my child,
When you'll see only one.
But do not think the Lord has left you -
Nothing could be more wrong.
It's just that he has picked you up
To carry you along.
- - - - - - - - - - - - - - - - - - - -
Find these bible passages - what do they teach us about 'compassion'?
Baby in the Bulrushes: Exodus Chapter 1, verse 2.

David spares Saul: 1 Samuel Chapter 23, verse 24.

The Good Samaritan: Luke Chapter 10.
---
---
Term 5, 2015: Truthfulness
This term we are exploring what truthfulness means.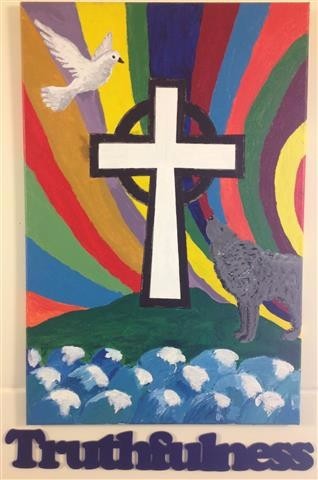 Year 6's acrylic artwork in the stairwell
Do you agree with these ideas?
It takes courage to be honest.

Lies don't hurt.

It's much easier to exaggerate, pretend and put on a false front in order to be liked and respected.

Telling lies can help get someone out of difficult situations.

If we use lies, the truth often comes out in the end and then the fall-out can be terrible.

People respect those who are truthful.

I don't mind people lying to me.

Small lies are ok.

An honest friend will tell the truth and this builds up the friendship.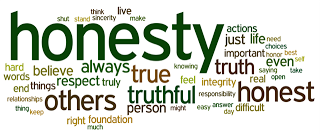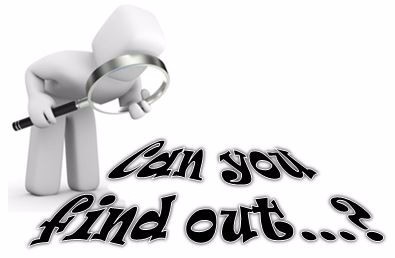 Can you find these Bible verses?
What do they teach us about truthfulness?
1) 'Do not tell lies about others' (Exodus 20:16).
2) 'It is better to be honest and poor than dishonest and rich.' (Proverbs 16:8).
---
Term 4, 2015: Serving Others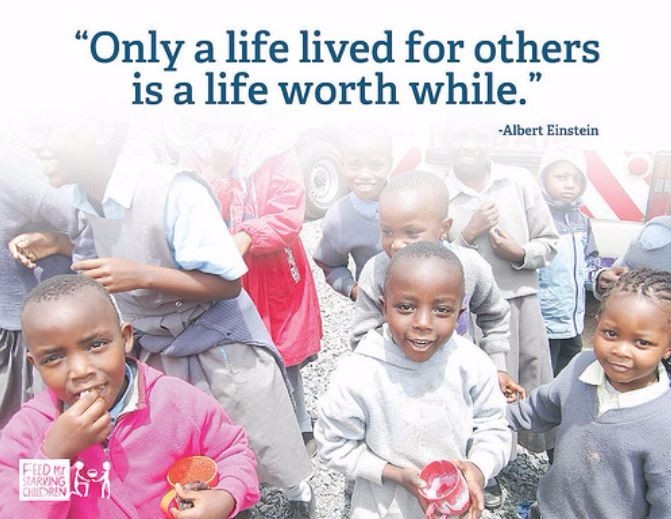 This term we are exploring what it means to serve others.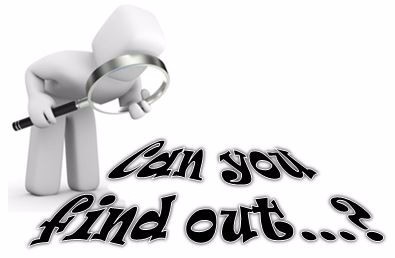 Talk at home about what you or your family members would do in each of the following situations.
You are on your way to a football game. You are in a hurry, but as you walk down the street to the playing field you see an elderly woman drop a bag of groceries. What do you do?

You have been at a friend's house playing. You are very tired. As you walk into your garden, you see your dad hard at work with the gardening. What do you do?

You come into the kitchen to get a drink and you see your brother washing the dinner dishes. What do you do?

You are walking home with some friends. You see that a dog has knocked over a rubbish bin in front of a neighbour's house and has scattered the rubbish around. The neighbour is away and won't be back for a few days.

What do

you do?
---
---
Term 3, 2015: Diversity and Difference
Have you seen the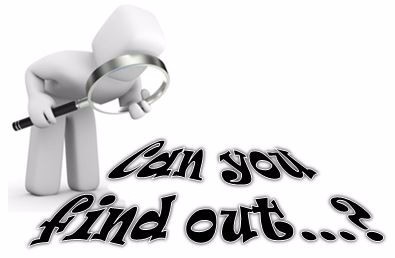 challenge at the bottom of the page?
You can find out more about Nelson Mandela in this Newsround video.

---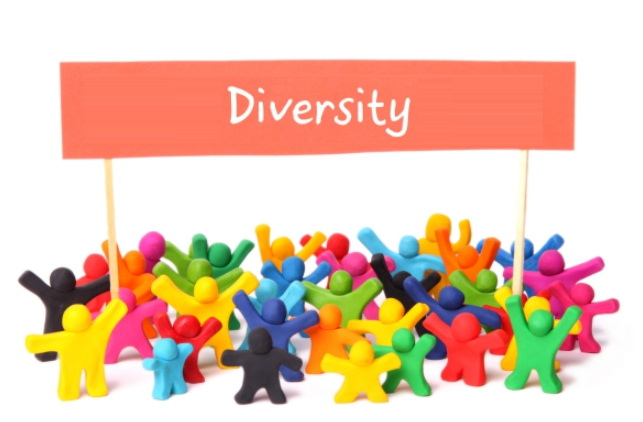 Diversity means how things vary or are different. Just as there are lots of different designs of cars, bikes, washing machines, balls - or just about anything you can think of - so there is diversity among people.
Whilst most people have the same general structure - two legs, two arms, two eyes, etc. - we are actually all very different to each other:
skin, hair and eyes can be many different colours and shades of colour,

the size and shape of our faces and our bodies varies,

amazingly, our DNA and our fingerprints are different to every other person's,

in fact, each one of the billions of people in the world is quite unique!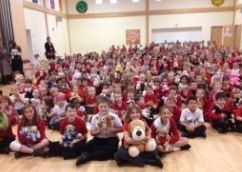 Diversity is not just about our bodies, though. Where we are born in the world, our race and our culture can make for a great deal of diversity too. There are differences in:
languages

religions

beliefs

cultural traditions

types of houses where we live

schools

jobs

things to do in our spare time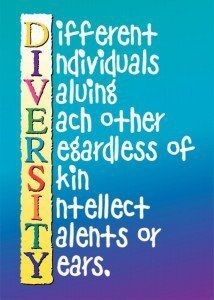 You don't have to go far to find diversity. Just look around at your family and friends and you will find it. Every single person you know is different. How about your brothers, sisters and cousins? They might have some similarities (e.g. the same colour hair) but they'll have lots of differences too:
Do they all look alike, sound alike, have the same skills and talents, share the same interests?
And the great thing about diversity is that it makes the world such an interesting place to be, because diversity fills it with interesting, different people.
How good is that? And how boring if everything and everyone was the same!
(adapted from Child and Youth Health website, Australia)
---

... what these people did to change how people are treated?
Father Trevor Huddleston & Bishop Desmond Tutu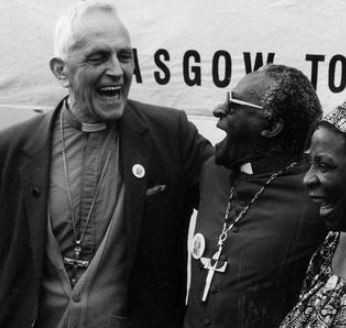 TIP: You can find out here (this is a page on the BBC News website).
---
Arsène Wenger & Thierry Henry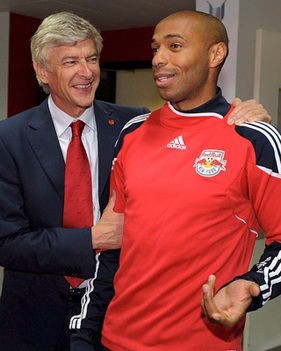 TIP: You can find out here (this is a page on the BBC Newsround website).
---
Please note: the school cannot be responsible for any other website's content.
---